Wanchun Pavilion 万春亭 GC7B67Y - Virtual Reward 藏点系列
这是 Virtual Reward 的第六篇介绍。藏点在北京的景山公园。藏点链接:https://coord.info/GC7B67Y。 如无特殊说明,本文的图片都来自于藏点页面。
这是2017年第一次Virtual Reward藏下的藏点,藏家是ooga booga ,很遗憾,暂时没有联系到藏家接受采访。
故宫是人们必游的景点,但时间紧张的游客可能不会去景山公园,景山公园着俯瞰故宫最好的景观。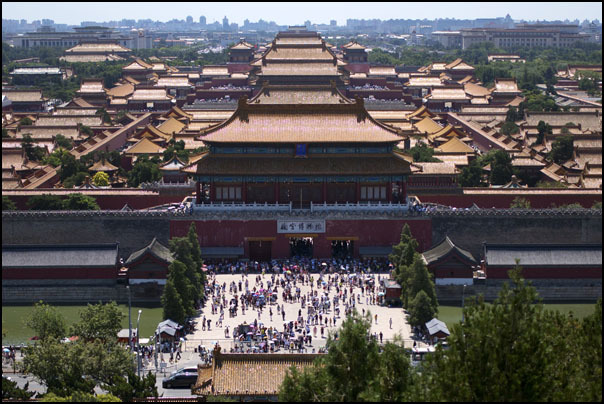 藏点页面对景山公园,以及景山公园中的景点做了较多的介绍,从大家的log中也可以看到,藏友们也是比较喜欢这个藏点的。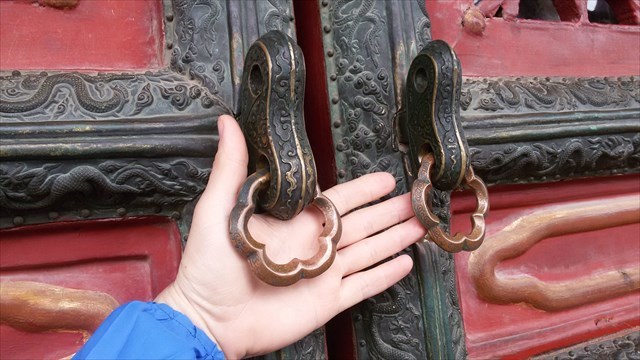 自2018年8月24日发布以来,截止2022年6月,这个藏点有182个"找到",是一个比较热门的藏点了。其中有一位藏友的日志,非常值得一读,作为藏家,一定是非常喜欢看到这类日志的。
这篇日志来自于:FIRESIDE796 原文链接:https://www.geocaching.com/seek/log.aspx?LUID=d7d7f76f-afc8-483c-8ae5-127e2153b63f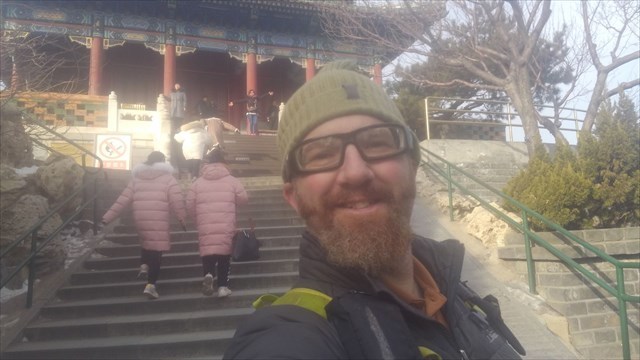 Early this morning, everyplace I tried to find a cache at, was closed. By the time I walked all the way from the hostel I stayed at, over 2.5 miles away, the weather had warmed up and the park was open.

I paid two Yuan to enter and was greeted by a couple of old Chinese men drawing calligraphy on the stone courtyard, with long paintbrushes, dipped in water. Seeing me, one of the men grabbed my attention, then he spelled out the word "Happy" in English and said "Happy New year" then next to that, he painted the image of a rat. The water darkened the stone and I understood that it would fade away as soon as the water dried. It reminded me of the work Tibetan monks do with sand mandala's. They painstakingly draw out intricate designs only when finished to let the wind blow them away or to be washed away by water.

Figure 4: 写书法的大爷

I walked around the park taking in the festive hanging lanterns. Everyone seemed excited to celebrate the coming new year. Snow laid on the ground in small piles or in patches where the trees blocked the sun on the north side of the man made mountain, stubbornly refusing to yield to the warmer temperatures.

I searched for a few traditional caches in the park, but was either unsure of the coordinates or not comfortable with leaving the path to search further. I thought about the "Wesley Crusher" scenario and thought better of breaking unknown foreign laws or customs and racked up the dnfs.

Finally, I turned my attention to the mountain at the center of the park. Many paths meandered up the steep rock covered slope. I was in awe of the massive feat it must have taken to literally "Move a Mountain" and pushed hard, climbing to the top, my lungs burning with the cool morning air. I made it to the top where people posed for pictures and stood surveying the scene in all directions. I was amazed when I looked out to the view of the south. The forbidden city laid out in such clear perspective. I had planned on visiting it today, but after seeing so many buildings and the scale of it, thirty minutes or a few hours just wouldn't have served it justice and took a few extra moments enjoying it from this vantage point before looking for the requirements of the virtual cache.

The best part of Geocaching is the locations that it takes you to. This was an awesome spot, and I'm so glad that I got the chance to experience it.

Thanks for the find.
看完这篇日志,给我的第一感想是,这位藏友是不是一个作家?写得真好。作为读者可以从文字间感受到他的情感和思想的流动,这位藏友的确是用心了。另外他的手机相机实在是差了点。为了获取他可以发布他的log,我和他联系了下,并看了看他的介绍,看着是一位爱旅行、爱自由的大叔​,大家有空可以去围观一下。
由于觉得无法翻译出原文表达的意境,因此就不翻译了。如有大家有需要的话,留言告诉我。
本网站内容如无特别注明,均为geocaching.cn原创,转载请以链接形式标明本文地址。
本文地址:http://www.geocaching.cn/2022/07/wanchun-pavilion-cache/